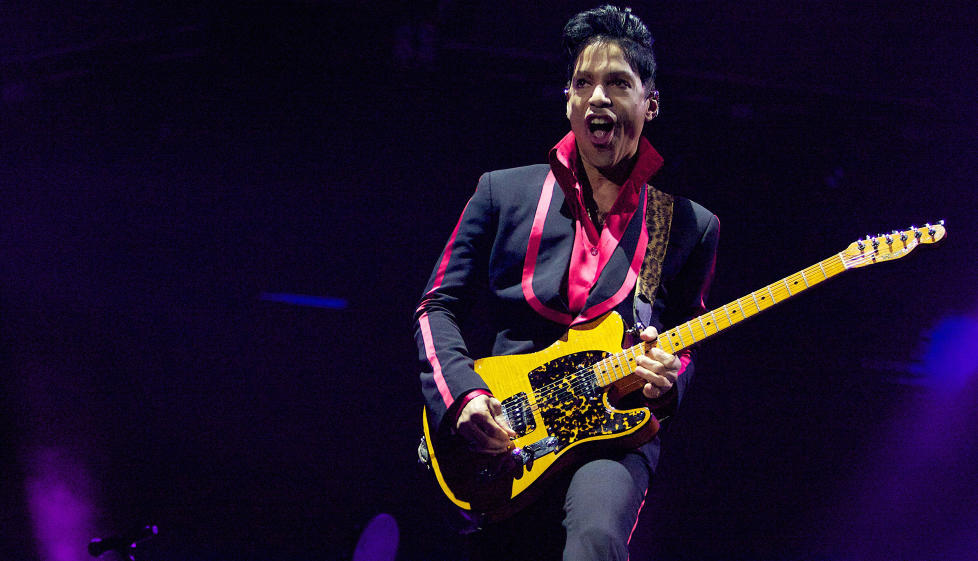 Æ syns den der mann e helt utruli!
Ane itj helt koffor men æ e litt i overkant svak for sånne androgyne mannfolk.
David Bowie, Prince...
De e nå litt uforutsigbart me dæm... nesten som et vilt dyr som nettopp har sluppe ut av bure sitt.
Kanskje itj nå te alles smak, men æ syns han e temmeli.... Phwoarrr...
å æ e så hinsides svak for den skamløse sensualiteten i Prince sin musikk. den e sexy å humoristisk samtidi.
Å no kjæm han te Oslo! YAY!
Æ har bestandi ønska å sjå Prince Live å no har æ muligheten. æ missa sjansen i fjor når han va i Bergen, å han spilt i London samma åre som æ flytta fra England så æ gikk glipp av han da....
De betyr at æ no må vurder barnevakt å bilettkjøp!
Æ ska te OSLO!
Seriøst!
De bare en hånfull menn her i verden som kan ha full øyesminke å alikavæl sjå maskulin ut????
De e muligens min siste sjanse før hoftan hass itj holl nå mer...
men seriøst... kor kul e væl tekstan hass!
Kæm ellers greie å skriv 1999, en sang om atombomba å få folk te å tru i mange år at de handle om et milenniumskift som skjedd 20 år ette at han skreiv de?
æ har hørt folk tiolka den teksten te å forutse "databugs" å nyttårsaften men datatekknologien va itj akkurat profetisk på 80-talle... ellers kunna dæm fint ha fiksa hele greia i gooo ti før 2000...hehe
Uansett her e nån sitat fra den geniale "Purple Pixie".
2night U're a star and I'm the Big Dipper
(gett off)
Gustav Mahler number 3, is jamming on the box
I'll have another glass of you, this time on the rocks
4th of July in every stroke, a symphony of light and sound
I want to die from all the smoke, fire burn's up when you're around
(Good Love)
U're so good
Baby, there ain't nobody better (Ain't nobody better)
So U should
Never ever go by the letter (Never ever)
U're so cool (Cool)
Everything U do is success (Ooh)
Make the rules (Rules)
Then break 'em all cuz U are the best
Yes U are
(Cream)
Å te slutt:
Let's go Crazy!
Dearly beloved
We are gathered here 2day 2 get through this thing called life
Electric word life, it means 4ever and that's a mighty long time
But I'm here 2 tell U there's somethin' else
The afterworld
A world of never ending happiness
U can always see the sun, day or night
So when U call up that shrink in Beverly Hills
U know the one - Dr. Everything'll Be Alright
Instead of asking him how much of your time is left
Ask him how much of your mind, baby
Cuz in this life things are much harder than in the afterworld
In this life U're on your own
And if de-elevator tries 2 bring U down, go crazy
Punch a higher floor!
If U don't like the world U're living in
Take a look around U, at least U got friends
U see, I called my old lady 4 a friendly word
She just picked up the phone, dropped it on the floor
"Ahh! Ahh!" was all I heard
CHORUS:
Are we gonna let de-elevator bring us down?
Oh no, let's go!
Let's go crazy, let's get nuts
Let's look 4 the purple banana till they put us in the truck
Let's go!
We're all excited, but we don't know why
Maybe it's cuz we're all gonna die
And when we do, what's it all 4?
U better live now before the grim reaper
Come knockin' on your door
Tell me...
CHORUS
Come on, baby
Let's get nuts!
Yeah (Crazy)
Let's go crazy
Are we gonna let de-elevator bring us down?
Oh no, let's go crazy! (Go crazy!)
I said let's go crazy! (Go crazy!)
Let's go! (Let's go!)
Go! (Let's go!)
Dr. Everything'll Be Alright will make everything go wrong
Pills and thrills and daffodils will kill
Hang tough children
He's coming!
He's coming!
Coming!
Take me away!